News
Winnipeg Ice beat Blades to win round one of WHL heavyweight match
"It's a results-based business, but when you just focus purely on results and not performance, then you're a rollercoaster."
Author of the article:
Darren Zary • Saskatoon StarPhoenix
Publishing date:
Nov 26, 2022 • 4 days ago • 2 minute read
Join the conversation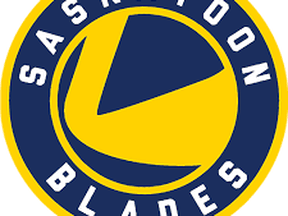 If Brennan Sonne had his way, the Saskatoon Blades would have finished a two-game set with the Winnipeg Ice on Friday.
We deliver the local news you need in these turbulent times on weekdays at 3 p.m.
By clicking on the sign up button you consent to receive the above newsletter from Postmedia Network Inc. You may unsubscribe any time by clicking on the unsubscribe link at the bottom of our emails. Postmedia Network Inc. | 365 Bloor Street East, Toronto, Ontario, M4W 3L4 | 416-383-2300
"I wish we could have kept going," said the Blades head coach, whose team meets the Ice once again Saturday night, at 7 p.m., at SaskTel Centre.
"Let's go. Let's go. We're ready to rock."
On Friday, the Blades dropped a 6-3 decision to the visiting Ice before a crowd announced at 3,0003.
The score wasn't indicative of the effort.
Even if the result certainly wasn't there, Sonne believed the performance level was up to standard against the No. 1-ranked Canadian Hockey League team.
"We played out really hard," said Sonne. "Winnipeg's a one-mistake team. You make one little mistake — you're out of position by five feet here, you miss one assignment there — and they're really dangerous so you're never going to play a perfect hockey game, structurally, because it's just so fast. But that's kind of what happened tonight. We missed a play here; we missed a thing there and it ended up in our net. But, overall, honestly, I thought we played really hard. I thought there were chunks in the game where we had a ton of momentum.
'Save for those little structural gaffes or whatever, I was pretty happy with the game."
Conner Roulette, Josh Pillar and Justin Lies scored for Saskatoon, which went 2-for-6 on the power play.
Graham Sward, Conor Geekie, Ben Zloty, Ty Nash, Owen Pederson and Vladislav Shilo scored for Winnipeg, which was 2-for-4 with the man-advantage and led 1-0 and 3-1 by periods.
"We hadn't seen Winnipeg yet and they're ranked No. 1 in the country, so you're excited for the challenge and I thought we brought the passion and compete, and all the stuff," said Sonne. "It was just a couple of little things ended up in our net."
Austin Elliott made 14 saves in the loss.
Daniel Hauser made 30 stops to improve his record this season to a perfect 16-0.
"I thought we were pretty consistently (going) hard the entire night — I really do," added Sonne. "I just think we've got to tighten up a few areas. I wouldn't get down on this. We've had one game in two weeks, so you're not going to be 100 per cent crisp and all that stuff. The result is one thing — and obviously it's a results-based business — but when you just focus purely on results and not performance, then you're a rollercoaster. We're very focused on performance in this dressing room and, honestly, I thought out performance was pretty solid. I thought that was one of the hardest-working games we've played recently."
dzary@postmedia.com