Health
Minister Amery: Alberta Children's Services focuses on Mental Health and Addiction Programs to Help Reduce Deaths
Between April 1 and Oct. 31, there have been 26 deaths of children or youth in care or receiving government services.
Publishing date:
Nov 25, 2022 • 1 day ago • 4 minute read
Join the conversation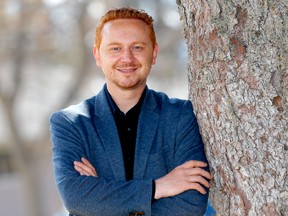 Alberta's government aims to tackle its shameful track record of deaths of children and youth receiving government services in part by addressing mental health and addiction issues among young people, says newly-sworn in Children's Services Minister Mickey Amery.
In an interview with Postmedia Thursday, Amery said one of the most difficult things about working in the ministry is seeing some of the details in reports from the office of the child and youth advocate on injuries and deaths.
Sign up to receive daily headline news from the Edmonton Journal, a division of Postmedia Network Inc.
By clicking on the sign up button you consent to receive the above newsletter from Postmedia Network Inc. You may unsubscribe any time by clicking on the unsubscribe link at the bottom of our emails. Postmedia Network Inc. | 365 Bloor Street East, Toronto, Ontario, M4W 3L4 | 416-383-2300
Between April 1 and Oct. 31, there have been 26 deaths of children or youth in care or receiving government services. In the first three weeks of November alone, there were six.
"It weighs heavily, heavily on me … as a parent, my heart goes out to every single one of those families grieving those losses," said Amery, when asked about what progress his ministry has made on outstanding recommendations from the advocate.
"None of (them) are blowing in the wind — every single one of the recommendations of the office of the child and youth advocate is currently completely implemented or under development," he said.
Amery said his ministry has been working closely with Alberta Health Services to expand the Virtual Opioid Dependency Program (VODP) among youth experiencing addiction and mental health issues, to help them get assessment and treatment referrals. On Friday, the government announced via news release that it was putting another $4.5 million over three years to expand the VODP program to deliver more comprehensive support to youth and young adults in their pursuit of recovery, with expanded services set to begin in early 2023. In response to the announcement, the advocate's office, now headed by Terri Pelton, tweeted that it was pleased with the move, saying it supports its previous recommendation.
We're pleased @YourAlberta is taking action to address the impact of the opioid crisis on young people. This supports our previous recommendation calling for a full-spectrum of services and supports for young people struggling with substance use. #AbLeg https://t.co/i3k9M1mzMx

— Office of the Child and Youth Advocate (OCYA) (@AlbertaOCYA) November 25, 2022
The government also made a substance use training program mandatory for child intervention practitioners last year.
Amery also pointed to the Transition to Adulthood Program (TAP), first launched in April, being bolstered as something "absolutely essential" for young adults aging out of care.
In a mandate letter this month, Premier Danielle Smith doesn't address recommendations from the child and youth advocate, nor does she specify actions to turn the high number of deaths around.
'Utterly shocked' letter doesn't address crisis: NDP
NDP Opposition children's services critic Rakhi Pancholi said in an interview with Postmedia Friday she was "utterly shocked" to see the letter is silent on both.
"We are on track for another horrific year again … if you look at this mandate letter you would have no idea there is a crisis going on," said Pancholi, who noted the letter makes no mention of a youth opioid strategy, nor housing.
In his final report as the province's child and youth advocate in March, Del Graff warned that the province's record-breaking number of deaths of children in government care last year was not a one-time spike, and the numbers will continue to climb.
At the time, Graff said the government needed to do more to hold its ministries accountable for implementing improvements that his office, and organizations like it, have been calling for for years.
Pancholi pointed to calls for multiple ministries, including children's services, to report their progress on the advocate's recommendations to them in a legislative committee.
"I don't know why we're not getting transparency and accountability, but from this mandate letter it's clear that we're not even getting recognition or acknowledgement that these are pressing issues," said Pancholi.
In a response to the recommendation, the ministry did not commit to reporting at committee, but said it considered the recommendation "to be complete" given the accountability processes it already has in place.
In the mandate letter, Smith asks Amery to focus on making the adoption processes more efficient, incentivizing unlicensed day homes to become licensed, and to work with Affordability and Utilities Minister Matt Jones on next steps in the federal $ 10-a-day child care deal.
Smith also tasks Amery, along with Indigenous Relations Minister Rick Wilson, with engaging with Ottawa and local communities to implement Bill C-92. Passed in 2019, the federal bill allows Indigenous communities to exercise jurisdiction over child and family services and establishes national minimum standards.
The letter calls for a review of the foster care system to reduce the number of moves and minimize disruption during a child's time in care, and to make it easier for foster parents to adopt children "to provide continuity of care."
"I'm a firm believer in the importance of placements that embrace and maintain the cultural identity of a child — I think that's so incredibly important," said Amery, adding he's also interested in combatting the stigma related to adoption.
Pancholi, however, expressed concern the government is moving away from culturally appropriate care, since the letter doesn't prioritize kinship care.
lijohnson@postmedia.com