The HTC U12 Life has been announced at the IFA 2018 in Berlin, Germany, and it looks like a tempting offer with a solid spec sheet combined with an attractive price.
The U12 Life replaces the slightly less radiant U11 Life of last year, with an improved design, more power, larger battery and improved power.
You get a 6.1-inch full HD screen, Snapdragon 636 chipset, 4 GB RAM, 64 GB storage, microSD slot, dual rear cameras (16MP + 5MP), 13 MP front camera with LED flash and a substantial 3.600 mAh battery.
The battery is actually larger than the 3,500 mAh power pack that can be found in the flagship of the HTC U12 Plus, and it is comfortably larger than the 2,600 mAh battery in the U11 Life.
Stripes for life
The HTC U12 Life also introduces a new design element from the Taiwanese company, with its 3D Ultra Stripes & # 39; adorn the bottom two thirds of the back of the handset.
They mainly have two jobs (except that they look pretty cool), the first of which is to create a lot of grip. Glass phones tend to lack grip, but the physical laser-etched lines on the back of the U12 Life should keep it more secure in your palm.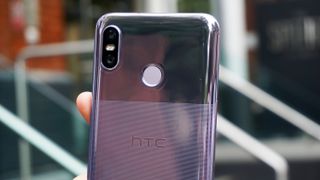 Secondly, HTC claims that the lines reduce the appearance of fingerprints on the back of the phone, reducing sweeping to make things look shiny.
There is also a fingerprint scanner on the back of the phone and audiofans will be happy to know that HTC has placed a 3.5 mm headphone jack on the U12 Life.
In terms of price, the HTC U12 Life will return you £ 299 (€ 349) when it is introduced in the UK, Europe, the Middle East and Asia by the end of September / beginning of October.
IFA 2018 is Europe & # 39; s biggest technical show. The TechRadar team is in Berlin to bring you all the news and practical first impressions of new phones, watches and other technology as they have been announced.