Navigation for News Categories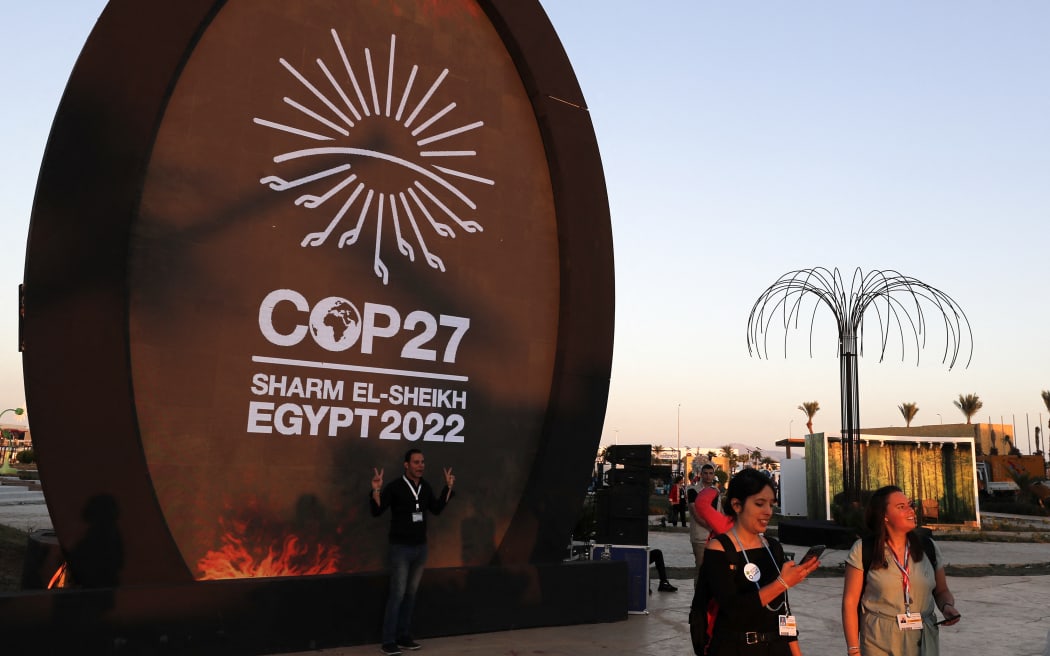 The business community can be more agile in the way it works than the large political machines, a New Zealand attendee at COP27 says.
Photo: MOHAMMED ABED/AFP
New Zealand business people are among tens of thousands of people who have converged on Egypt for the annual UN climate conference.
They are looking for information, to make contacts and to cut deals.
With the Paris rulebook finally hammered out last year, eyes are on the private sector to get busy cutting emissions.
Toitū Envirocare technical general manager Belinda Mathers has found her first time at COP overwhelming.
"It's a massive place, there's an awful lot going on.
"I've been trying to … make sure that I don't get lost, and I don't spend so much time wandering around trying to find out what the interesting things are that I miss out on doing the interesting things."
Toitū Envirocare provides tools to measure and reduce business carbon emissions. Mathers is there to network and keep up with international best practice.
While there's lots of action in the negotiating rooms, people see the side events as the main attraction.
"And actually, the business community in some cases is leading things because the business community can be more agile in the way that they work than the large political machines," Mathers said.
An important lesson she would be bringing back to clients in Aotearoa was the need to reduce emissions throughout the value and supply chain: the raw materials and the upstream and downstream suppliers.
She said another was not to let perfection be the enemy of good.
"We're not going to get it perfect in the time we've got, we need to do the best we can and be willing to experiment and be willing to maybe get some things wrong, but learn quickly from that and then get it right pretty quickly after that."
Emissions offset firm CarbonClick chief executive Dave Rouse said an attraction of COP was the opportunity to observe talks on some major issues first hand.
"I got to sit in on some pretty grunty conversations.
"And that's where you really uncover … what the agendas are, or hidden agendas are, behind nations.
"And you can start to put two and two together and see who's been in collusion, or cahoots, around trying to block something."
Rouse said it was crucial to know where climate policy was heading, so it could get the best financial return and impact for its efforts.
"For example, if the Middle East comes out with a policy and says, 'hey, we're going to have to do X, Y, and Z', then we would know that when the prince in Saudi Arabia says something's got to be done, then it actually happens really quickly.
"It means that we have an opportunity to step in there and say, 'right, we can connect you guys to all of these offsetting projects in the developing nations', we can make it easy for business to get involved, and we can accelerate that process."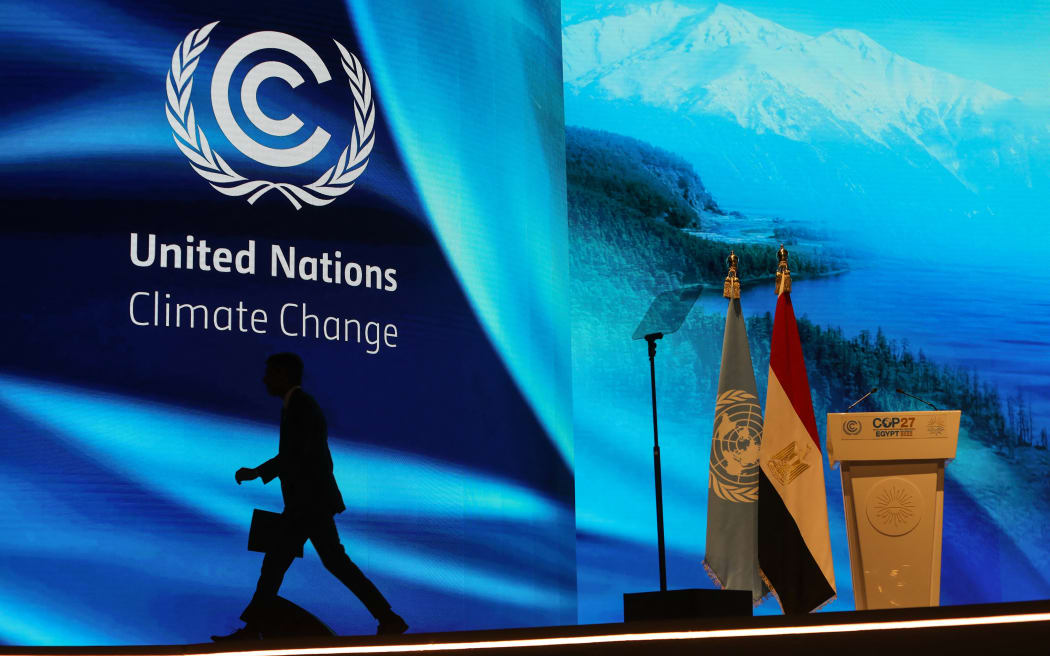 Photo: MOHAMED ABDEL HAMID/AFP
Climate impact fund manager Camco Clean Energy general council Karl Upston-Hooper is a COP old hand, having attended every year since 2006.
"Why do we go? Because the entire climate finance space is built upon the foundation blocks of the UNFCCC [United Nations Framework Convention on Climate Change] process, even if it's often perhaps an impenetrable language and process for non-aficionados."
At this COP he is looking for progress on how climate finance will be deployed, with money available from the private sector vastly dwarfing the $100 billion pledged by rich countries which is still being wrangled over.
"Projects are risky, particularly in developing countries. So … public finance is better placed to carry some of the riskier part of the capital stack.
"And then private finance can fill up most of the money needed."
COP27 runs for the rest of the week and could last into the weekend if talks stall.