Latest posts
Today's headlines
By
Anna Patty
Thanks for joining us today. Here are some of our major headlines from today:
Defence Industry Minister Pat Conroy said the AUKUS submarines agreement would deliver more jobs than the cancelled French deal. He said the project would create around 20,000 jobs – around twice as many jobs as the Attack Class project would have delivered.

But former prime minister Paul Keating didn't share his old party's enthusiasm. Instead, he slammed the AUKUS deal as the "worst international decision" by a Labor government since the First World War. In a statement, the former Labor leader lashed out at the Albanese government's complicity in joining with Britain and the United States for the nuclear submarine deal.

Treasurer Jim Chalmers will have to find up to $31 billion in budget savings over the coming decade to offset the medium-term cost of the government's planned fleet of nuclear-powered submarines while also making space for the surging expense of other programs. The headline total cost of the 32-year plan, at between $268 billion and $368 billion, dwarfs the size of most spending programs or major infrastructure projects.

The cost of a deal aimed at protecting Western Australia's share of the GST is growing faster than the National Disability Insurance Scheme, the interest bill on government debt and defence spending after blowing out another $600 million in less than six months. Details of the annual carve-up of the goods and services tax among the states and territories show the price tag of a deal put in place by the Morrison government is now on track to surpass $25 billion since its inception, while leaving a potential hole in the budget when it ends.

Energy Minister Chris Bowen said government interventions on power prices were vital in keeping prices down after the Australian Energy Regulator predicted they would go up. As reported below, the power price regulator flagged prices are expected to go up between 20 and 22 per cent in NSW, south-east Queensland and South Australia.

A Russian fighter jet struck the propeller of a US surveillance drone over the Black Sea on Tuesday in a "brazen violation of international law," causing American forces to bring down the unmanned aerial vehicle, the US said.
Woman kills husband with drugged biscuits
By
Emily Woods
A woman who fed her husband biscuits laced with sleeping pills, wrapped him in a blanket and stuffed him in a backyard freezer has been found guilty of his murder.
Rebecca Payne, 43, faced a three-week trial at the Supreme Court in Mildura, accused of murdering her 68-year-old husband in the small town of Walpeup, in northwestern Victoria, in September 2020.
She admitted she killed Noel Payne by accident when she drugged him with temazepam, which she crushed up and put inside the icing of two homemade biscuits.
However, she denied she had committed murder and instead pleaded guilty to manslaughter as she claimed she did not intend for him to die.
Jurors retired to deliberate on their verdict on Tuesday afternoon, returning after less than 24 hours and finding her guilty of her husband's murder.
Payne, who remains in custody, will return to court at a later date for a pre-sentence hearing.
AAP
'Keating is wrong' on foreign policy and playing 'the woman instead of the ball': Khalil
By
Anna Patty
ALP MP Peter Khalil says former Prime Minister Paul Keating was wrong in accusing Foreign Minister Penny Wong and Defence Minster Richard Marles of setting Australia down a "dangerous path" by deepening ties with its closest security allies.
Speaking on ABC Melbourne radio on Wednesday, Khalil was responding to Keating's criticism of the AUKUS submarines deal as the "worst international decision" by a Labor government since the First World War.
Keating accused Wong of: "Running around the Pacific Islands with a lei around your neck handing out money, which is what Penny does, is not foreign policy. It's a consular task. Foreign policy is what you do with the great powers: what you do with China, what you do with the United States."
Khalil said Keating was "fundamentally wrong" and had misrepresented the government's approach by accusing it of manufacturing a problem.
"This decision is important for our national security and our national interest because we want to avoid confrontation, we want to avoid conflict. And, the best way to do that is to ensure that your defence capability is up to scratch," he said.
Khalil also accused Keating of playing the man, and in this case, the woman instead of the ball. "His attack on Penny Wong and Richard Marles are just not borne out by the reality," he said.
Perrottet says ICAC treated Berejiklian fairly
By
Tom Rabe

and

Angus Thomson
Premier Dominic Perrottet says his predecessor Gladys Berejiklian wasn't unfairly treated by the state's corruption watchdog which forced her resignation from top office, but believes NSW is a better place because of her leadership.
Perrottet and Labor leader Chris Minns squared off in a televised Herald and Nine debate on Wednesday, clashing over privatisation of government assets, Sydney's cost of living crisis and the two sides' policies to deliver poker machine reform.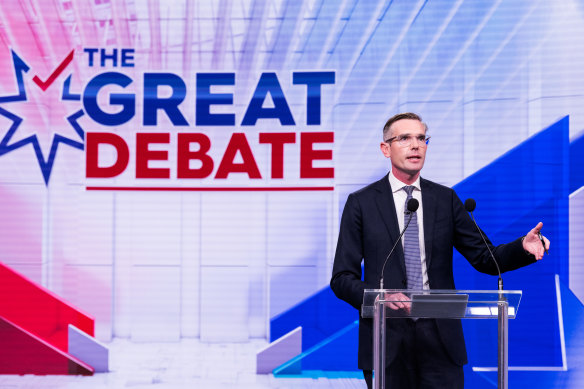 In a relatively even debate, both men said Berejiklian was not unfairly treated by the Independent Commission Against Corruption.
The ICAC announced in 2021 it was investigating whether she breached public trust or encouraged the occurrence of corrupt conduct during her secret relationship with disgraced former MP Daryl Maguire. Berejiklian has insisted she acted with the highest integrity while in office.
Perrottet wouldn't be drawn on whether he was a better premier than Berejiklian, but said people had a lot to be grateful for for her contribution to NSW.
'Explain how we're going to pay for the new submarines': Dutton
By
Anna Patty
Opposition leader Peter Dutton has called on the Labor government to explain how it will pay for a new fleet of eight nuclear-powered submarines that will cost up to $368 billion by 2055.
"The last thing that we should allow labor to do is to cannibalise the Australian Defence Force like they did when they were last in government," he said.
Prime Minister Anthony Albanese announced the submarines plan alongside US President Joe Biden and UK Prime Minister Rishi Sunak in San Diego on Tuesday morning (AEDT) as part of the AUKUS agreement the three nations struck in September 2021.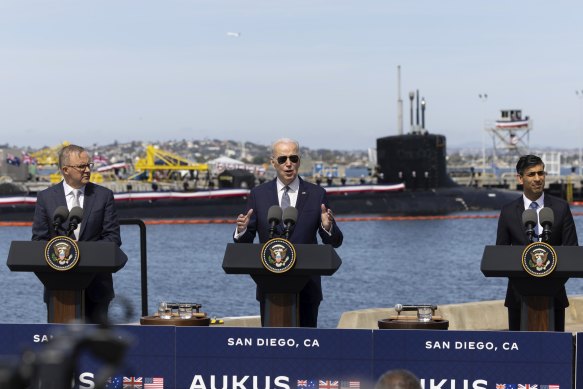 Dutton said the government now needed to answer questions about how it is they're going to pay for the submarine fleet.
"I don't want to see money ripped out of Army or Air Force or navy to pay for the AUKUS deal," he said on Tuesday afternoon. "Again, if there are problems in programs or money's not being spent appropriately – if that's the government's claim, then make that public.
"But if you're just going into defence, taking billions of dollars away from the men and women in uniform, to try and fund the AUKUS program and do as the Treasurer says that this is just going to be a cost neutral program. Nobody believes that. It's not credible, and the Labor Party will have to detail that in the budget in May."
Loading
Dutton also qualified his previous comments about NDIS funding, saying they had been misconstrued to suggest he was in favour of cutting funds to help fund the AUKUS agreement.
"My argument yesterday was more money needs to be spent in aged care and if there is a structural change requires legislation to make our aged care system more sustainable, getting more money into the system to give people greater dignity as they age, then we would support that," he said. "Somehow that's been misconstrued by a couple of journos. I don't quite understand how they drew that conclusion, but there's no quote of mine which suggests that there should be a cut in aged care and my judgment is quite the opposite."
Tabcorp secures preliminary discovery win over Entain, NSW pubs amid advertising deal fight
By
Amelia McGuire
Corporate bookmaker Entain and NSW pubs have been ordered by the Supreme Court to hand over key documents to wagering giant Tabcorp as it considers taking further legal action over a controversial advertising deal.
Loading
Tabcorp commenced Supreme Court proceedings in November seeking preliminary discovery from Entain and the NSW division of the Australian Hotels Association after they signed a deal enabling pubs to advertise digital rival betting platforms Ladbrokes and Neds.
The state's pubs and clubs are exclusively allowed to operate Tabcorp's retail wagering in their venues thanks to a long-standing state licence the group extended in 2013 to 2033.
The court ordered Entain and NSW pubs to hand over all documents which could constitute as legal advice pertaining to the lawfulness of the deal, all documents pertaining to the configurement or operation of the areas including the proposed "Ladbrokes lounges" and all evidence Entain relied upon to state in October that the deal would not offend Tabcorp's retail exclusivity in the state.
It's likely Tabcorp will pursue further legal action in light of the preliminary discovery win. The first Ladbrokes Lounge under the agreement is expected to launch in April at The Star Hotel in Western Sydney.
Mixed response to NSW election debate
By
Anna Patty
Our team of reporters were divided on the winner of today's debate between NSW Premier Dominic Perrottet and Opposition leader Chris Minns.
Senior writer Harriet Alexander observed that Perrottet thumped his hand up and down like a metronome whenever he was given free rein, as though moderating his own momentum. He warned early of economic headwinds that would put jobs at risk, laying the groundwork for his own solutions, exuding urgency.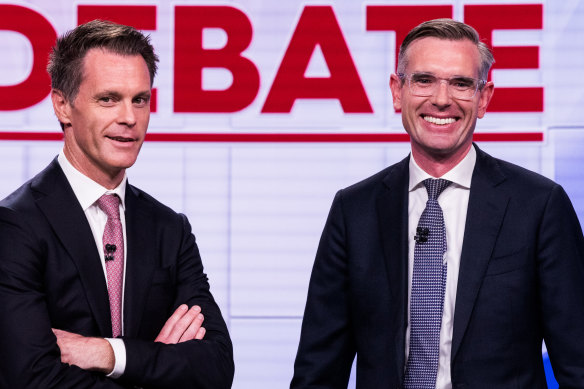 Minns conjured the image of a state in a mess, with schools and hospitals facing a retention "crisis" and promising a better way under Labor. But his solutions and the manner in which he pitched them lacked razzle-dazzle, and he presented instead as an honest messenger of a drab truth, that basic measures, such as wage increases and toll relief, would do most to help voters.
He raised early the prospect of privatisation under the Coalition and it returned like a chorus, amid dark warnings that the government would be unable to pay for its infrastructure plans unless it did so. But he was strongest when offering reasons that the government should be voted against, while Perrottet offered them something to vote for.
Read the full run down here.
Spent fuel rods 'minor issue' according to former PM
By
Caroline Schelle
Paul Keating has been questioned about nuclear non-proliferation and issues around getting rid of waste in the country.
"I don't think that burying spent fuel rods is proliferation," the former prime minister said at the National Press Club today.
"And Australia is big enough for that. It's a minor issue."
The comments come after it was revealed yesterday that Australia would have to dispose of the nuclear waste from the new submarine fleet.
Acting Prime Minister Richard Marles said the disposal site location would have to be remote, could be kept secure and would have to be geologically stable.
"We're blessed with large parts of the country where that's possible. We have made clear this will happen on defence land, be it current or future defence land," he told the ABC.
And that's where we will leave the former prime minister for now.
Virginia-class submarines are 'clunkers,' says Keating
By
Caroline Schelle
Former prime minister Paul Keating hit out at the cost to build Australia's fleet of nuclear-powered submarines, which is estimated at up to $368 billion by 2055.
"For $360 billion, we're going to get eight submarines. It must be the worst deal in all history," he told the National Press Club today.
"If we were buying Collins-class replacements, we'd get at least 40 to 50 of those submarines."
He said the size of the US-made nuclear-powered submarines would mean they could be "discoverable from space".
"What's more, they are too big for the shallow waters of the Australian coast," he said and added the Collins-class submarine worked perfectly to defend the country.
"Now we've got a big 8000-tonne clunker. We get three instead of 15," Keating said.
Former PM says China is 'lonely state'
By
Caroline Schelle
Former prime minister Paul Keating said China is not the "old Soviet Union" but a lonely state who would "fall over themselves" for a proper relationship with Australia.
Speaking at the National Press Club, Keating said people were still talking about China as though it was in the Soviet Union instead of a nation in the International Monetary Fund, the World Bank and the World Trade Organisation.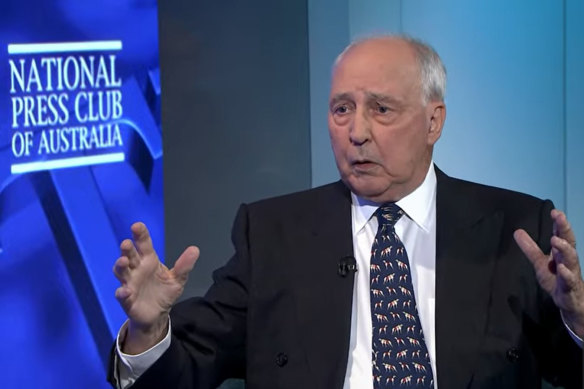 "It is not the old Soviet Union … Xi Jinping [was] at Davos five years ago talking in favour of globalisation. I mean, this is not a state which wishes to overturn the West," he said.
"There's a whole lot of difference between not wishing to overturn the West and copping the nonsense from the Americans that the Chinese should live forever under their strategic command."
In his speech, Keating said the AUKUS announcement set a new trajectory for relationships in the region.
"China is a lonely state. That's the truth of it. They would fall over themselves having a proper relationship with us. Fall over themselves. We supply their iron ore, which keeps their industrial base going. And there's nowhere else but us to get it," Keating said.
Earlier, he labelled the AUKUS submarines decision as Labor's worst since Billy Hughes tried to introduce conscription.